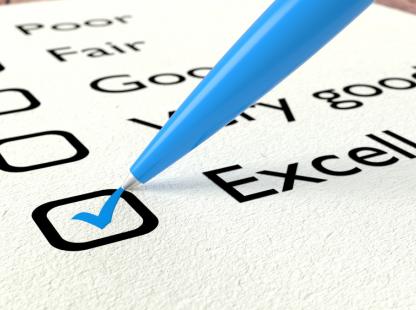 Performance Evaluation
The evaluation program and process are designed to facilitate ongoing communication and participation of employees in the performance management process.
The university depends upon and invests in performance excellence from its employee's in achievement of its strategic objectives. The fulfillment of the university's mission demands not only unqualified commitment to performance excellence but effective, efficient performance management methodology and process. In furtherance thereof, the university administers performance evaluation programs in accordance with collective bargaining provisions, as applicable, and the parameter of its performance management program.
The evaluation program and process are designed to facilitate ongoing communication and participation of employees in the performance management process, establish accountability for performance and links compensation to performance as applicable.
The essential parameters of performance evaluation include performance planning, performance coaching, and performance evaluation. The evaluation process involves an opportunity for an employee's self-assessment. This is designed to provide the evaluator with a direct indication of the employees understanding of his/her positional expectations, professional maturity and investment in critical self-assessment as a means to performance enhancement. Its purpose is improved communication and notice of the employee's perspective.
The evaluation by the supervisor culminates the planning and performance process for the record, focusing on core, functional and leadership competencies applicable to the position, along with the translation of those competencies to previously set and position inherent goals, objectives, responsibilities and expectations.
Under the evaluation process, the evaluator reviews the incumbent's performance relative to necessary, prescribed competencies and the charted and inherent performance agenda over the previous performance period. Where an incumbent has either exceeded or fallen short of performance expectancies, a narrative explanation is mandatory.
The evaluation(s) shall be reviewed by the evaluator's supervisors as applicable at division and vice president level for concurrence, comment or rejection.
While performance management is a continual process, periodic performance review, amendments, adjustments and re- visitation of charted and inherent goals and objectives is not only sensible it is necessary to ensure focused, quality performance, maintaining the integrity of the university's employment contract policy.
Performance planning shall generally be annualized although shorter or lengthier terms are appropriate where noticed to the employee and approved by the university.
Evaluations are to be conducted at least annually. Evaluations may be conducted more often where certain performance characteristics or aptitudes are determined by the performance manager to be in need of formal, recorded review.
Formal annual evaluation should be completed and submitted for contractual employment and/or performance based compensation consideration in line with the timelines prescribed i under collective bargaining unit agreements for unionized employee and under the performance management program for non-aligned employees.
Performance evaluation forms can be accessed at:
Performance Evaluation Competencies Dictionary
PSA Evaluation Form — Please note that the PSA performance evaluation process and form is now web based and can be accessed through the Highlander Pipeline via "Faculty and Staff Services/Human Resource Services/Performance Management Applications"
Non-Aligned Evaluation — Please note that the Non-Aligned Performance Review process and form is now web based and can be accessed through the Highlander Pipeline via the "Faculty and Staff Services/Human Resource Services/Performance Management Applications"