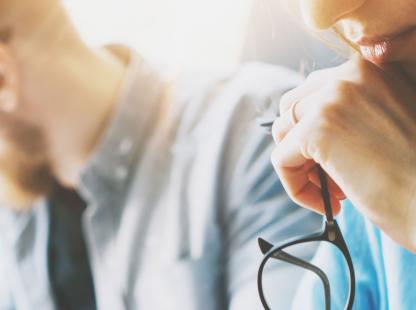 Information for Applicants
This page provides applicants with useful information and resources which may be helpful in the application process.
New Users
New users to the online recruitment system will need to create an application prior to applying for any jobs. Once an initial application is created, your information will be saved for future use.
Returning Users
Returning applicants will be able to log into the site using the username and password previously created. This will enable a returning applicant to:
Apply to new jobs without re-entering application information.
Review the status of positions that have been applied to
The application process is entirely online and the Department of Human Resources does not accept paper applications.
If special accommodations are needed in applying for a position, please visit the Department of Human Resources located in Fenster Hall, Room 500, University Heights, Newark, NJ 07102 or call (973) 596-3140. If you have questions, please email Human Resources at hr@njit.edu.
Information job applicants should know
New Jersey First Act
New Jersey Institute of Technology complies with the "New Jersey First Act" which requires employees to establish a principal residence in New Jersey unless exempted by the law or provided an exemption. New employees will have a full 365 days to establish such residence, from the effective date of hire.
Jeanne Clery Disclosure of Campus Security Policy & Campus Crime Statistics Act
Information regarding NJIT campus security, personal safety, fire safety , crime statistics and a variety of other topics, can be found on the NJIT Department of Public Safety's website.
If you would like to obtain a copy of NJIT's Annual Security Report, you may contact the NJIT Department of Public Safety 154 Summit Street, Newark, NJ 07102 or by phone at 973-596-3120.
I-9
As required by federal law the university is required to complete and retain a Form I-9 Employment Eligibility Verification document for all regular and temporary employees. Completion of Form I-9 is a shared responsibility of both the employee and the university.
Section #1 must be completed by the employee no later than the first day of employment 
Section #2 must be completed by an authorized university representative on or before the third day of employment.
Form I-9 can be completed as soon as, but not before, a job offer has been extended and accepted. 
You will be required to bring your original and unexpired document(s) on your first day. You may refer to the list of acceptable documents, and choose one from list A or one from list B and C together.
E-Verify
NJIT is an E-Verify employer and uses E-Verify to confirm work authorization of each new hire. Please see the following links:
As an EEO employer, NJIT is committed to building a diverse and inclusive teaching, research, and working environment and strongly encourages applications from individuals with disabilities, minorities, veterans, and women.