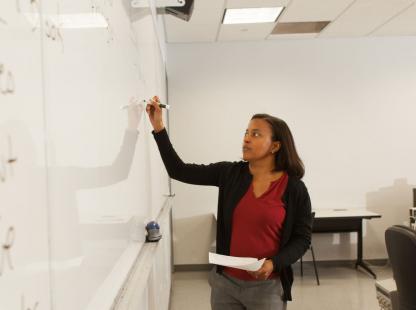 Learning & Development
We will support our leaders in developing a culture of engagement, respect, and excellence and in the furtherance of being a great place to work.
LinkedIn Learning
NJIT has partnered with LinkedIn Learning, an intuitive educational platform that helps you discover and develop business, technology-related, and creative skills through expert-led course videos.  Faculty and staff will have access to personalized, "bite-sized" video-based learning 24/7 so you can develop relevant skills and grow professionally. There are thousands of courses and content available.
Additional information for managers can be found in our Managers Toolkit. 
Questions, comments, or issues with LinkedIn Learning? Please contact asktod@njit.edu.
Career Development: Ensure you have the tools for success by accessing easy grab-and-go content that empowers learners to steer their own career growth through professional training.
Training & Upskilling: Upskill yourself in a scalable and efficient way by leveraging recommended content. LinkedIn Learning automatically recommends content based on your position and other profile details. You also have the ability to search for courses and your manager can recommend content to you.
Performance Development: Access training that helps you achieve your professional goals and become more effective. You and your manager can map learning content to align with maximizing your strengths and addressing your opportunities for improvement.
Course Variety: Enhance your abilities via a broad range of content focusing on both soft and hard skills, as well as wellbeing and mental health.Here are some examples:
| | | |
| --- | --- | --- |
| Soft Skills | Hard Skills | Well Being |
| Leadership | Conference Software | Stress Management |
| Communication | Office 365 | Managing Change |
| Hybrid/Remote Work | Artificial Intelligence | Mindfulness |
| Difficult Conversations | Machine Learning | Balance Work & Life |
Here is some additional information to get you started:
What is LinkedIn Learning?
LinkedIn Learning is an online video service that provides access to thousands of courses and tutorials taught by experts and industry leaders. Employees may use LinkedIn Learning to learn a new subject or brush up on an existing skill you already have.
With LinkedIn Learning, you get:
Unlimited access. Choose from more than 8,000 video tutorials covering business, technology, software, and creative skills – from beginner to advanced. Software tutorials include products widely used at NJIT such as Microsoft Office and Adobe's suite of products.
Expert instructors. Learn from industry leaders, all in one place. Convenient learning. Complete courses at your own pace, from any desktop or mobile device. Your progress is saved so you can pick up where you left off.
Bite-size learning. All LinkedIn Learning courses are broken into short videos, so you can focus on a key topic of interest. Watching small snippets of longer courses helps you gain knowledge across numerous subjects. Helpful resources. Reinforce new knowledge with quizzes, exercise files and coding practice windows.
---
Who can use LinkedIn Learning?
Current full-time faculty and staff have access to LinkedIn Learning. If you are unable to access LinkedIn Learning and are a current full-time faculty or staff member, please contact asktod@njit.edu.
---
Can I access LinkedIn Learning through the Highlander Pipeline?
You can access LinkedIn Learning courses through the Highlander Pipeline. You will find the link under HR Services. The first time you access LinkedIn Learning:
You will be presented with the option to use an existing account, or create a new account. Choose the option to create a new account.
Then you will be asked to enter an email address. Enter your NJIT email.
Once you complete these steps, you will not need to repeat them again.
---
Who should I contact if I get an error message when attempting to use LinkedIn Learning?
Please contact IST Service Desk.
---
What are the minimum machine requirements for using LinkedIn Learning?
System requirements can be found here.
---
What URL do I use to access the LinkedIn Learning training materials?
To go directly to the LinkedIn Learning training materials, go to https://www.linkedin.com/learning.
---
Can I access my training history?
Yes. Simply, click on "Me"  in the upper-right area of the LinkedIn Learning website and select saved or in progress, and Learning History.  You should see a complete listing of your training history. Courses that you have completed will allow you to click more to view the certificate.
---
Can I obtain Certificates of Completion for completed courses?
Yes. When you finish a course by watching every tutorial in the course, you may receive a certificate of completion. You may print the certificate, email it, or embed your certificate in a blog post or web page. Certificates may be found by clicking on "Me" in the upper-right area of the LinkedIn Learning website, then scroll down to Learning History.   Click on more to share your history on your LinkedIn Profile, or download the certificate for printing.
---
Can I use LinkedIn Learning on mobile devices?
Yes. The LinkedIn Learning app can be downloaded for both iOS and Android. For more information about the app, consult https://mobile.linkedin.com/ 
---
What are some troubleshooting techniques for video playback problems?
Most LinkedIn Learning issues may be resolved by trying the following techniques:
Log out of LinkedIn Learning, quit your browser, and then log back in.
Try clearing your browser's cache and cookies.
See if restarting your computer solves the problem.
Try removing browser add-ons. Make sure your operating system has all its important updates.
Try using a different web browser like Chrome or Firefox.
Need more help with LinkedIn Learning? - https://www.linkedin.com/help/learning