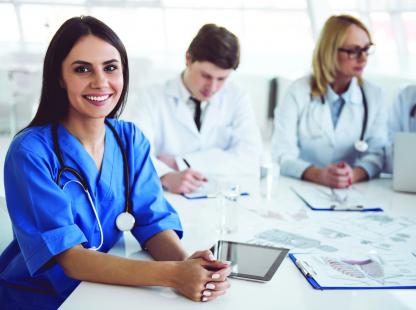 Wellness
An initiative through the State Health Benefits Program (SHBP). 
NJWELL
NJWELL is a wellness program offered to employees who participate in the State Health Benefits Program (SHBP) and your covered spouses or partner.
Your well-being matters. NJWELL provides inclusive and holistic experiences to meet your needs through activities and educational programming to support healthy lifestyles.  The program is designed to help and reward eligible employees and their covered spouses or partners for completing activities designed to promote healthy behaviors.  Earn up to $250 in rewards by completing 3 easy steps!
Resources
NJ Division of Pension and Benefits
NJWELL Program 2021: Questions & Answers
---
Grand Rounds Health
NJ SHBP/SEHBP's Expert Medical Opinion Partner
What is Grand Rounds Health? Grand Rounds Health is a remote, confidential expert second opinion partner that connects participants to world-class health experts for guidance for complex needs. This benefit helps improve outcomes and reduce costs from incorrect diagnoses and treatment.  Grand Rounds Health services are available at no out-of-pocket costs.
How do members get started? All employees enrolled for a Medical plan through NJIT are eligible. Eligible plan members can visit www.grandrounds.com/shbp or call 1-855-734-4017 to enroll.  They can access their account on any device (desktop, tablet, or mobile) after they sign up. 
What can members do with Grand Rounds Health? 
Receive an expert second opinion for any condition they may have, which includes Grand Rounds Health gathering all available medical records on behalf of the member.
Find high-quality, in-network providers for local care and even have their appointment scheduled for them.
Speak with a Grand Rounds Health Staff Clinician for any questions they may have about their health, as often and for as long as they want.
---
Livongo
Livongo, a diabetes management program was launched for Actives and Early Retirees.  The goal of the program is to help keep members living with diabetes in the safe zone of blood glucose levels by providing a cellular-enabled glucometer with testing strips and access to coaching and a 24/7 chat feature.  Livongo identifies eligible participants through Medical and Rx claims data sending targeted communications to members for enrollment.  Livongo analyzes data to personalize the program for each member and provide real-time health insights.  Livongo is also implementing the Livongo "Whole Person", which provides a broader set of services including Livongo for Diabetes, Livongo for Hypertension, Livongo for Weight Management, and Livongo for Behavioral Health.  To learn more, click here.