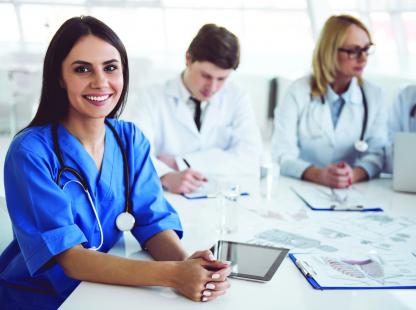 Wellness
An initiative through the State Health Benefits Program (SHBP). 
NJWELL
NJWELL is a wellness program offered to employees who participate in the State Health Benefits Program (SHBP) and your covered spouses or partner.
Your well-being matters. NJWELL provides inclusive and holistic experiences to meet your needs through activities and educational programming to support healthy lifestyles.  The program is designed to help and reward eligible employees and their covered spouses or partners for completing activities designed to promote healthy behaviors.  Earn up to $250 in rewards!
Resources
NJ Division of Pension and Benefits
NJWELL Program: Questions & Answers
---
Employee Assistance Program (EAP)
 
Employees and their family members may use EAPs to help manage issues in their personal lives.  EAP counselors typically provide support and referrals to additional resources, such as counselors for a limited number of program-paid counseling sessions.  The issues for which EAPs provide support vary, but examples include: substance abuse, occupational stress, major life events including: births, accidents and deaths, health care concerns, financial or non-work related legal concerns, family/personal relationship issues and concerns about aging parents.  Confidentiality is maintained is accordance with privacy laws and ethical standards.
Carebridge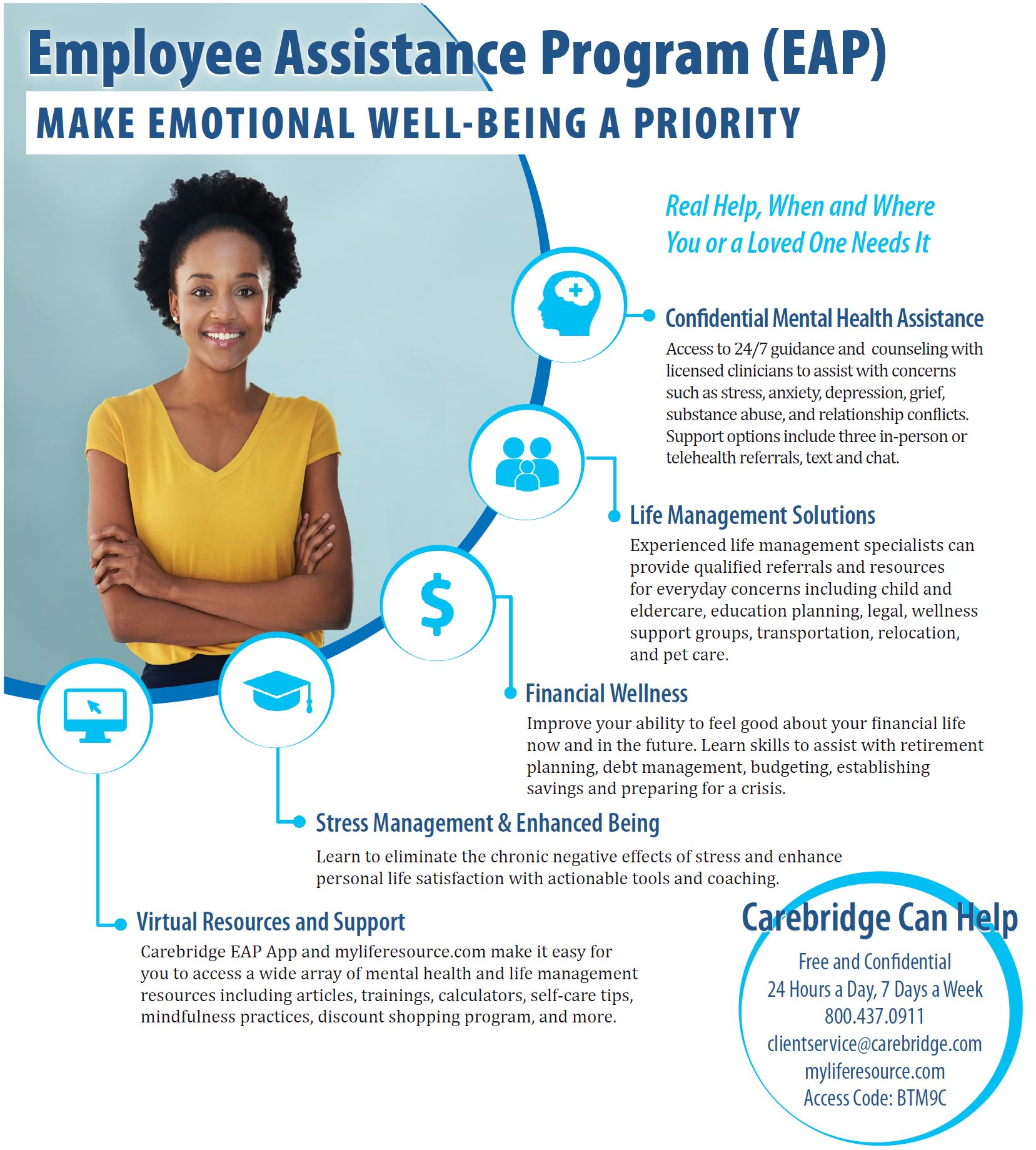 Additional Resources:
Resource Alert – Coronavirus
The coronavirus pandemic is likely to cause stress and anxiety for most employees. Carebridge has posted a webinar, COVID – 19, Facts You Need to Know, under the News Alert banner on our employee support website, myliferesource.com. The presenter, Dr. Ellen Contente, holds a Ph.D. in Spiritual Studies and Consciousness from Emerson Theological Institute and is the founder of the Heart-Centered Programs, a training and consulting business. This special 45- minute recorded webinar includes the most recent information available from the CDC and the WHO, as well as, addresses coping mechanisms for stress and anxiety reactions. A link to the webinar will be located at the top of our member site, www.myliferesource.com. Log into the member site and select COVID-19 Facts You Need to Know, a special webinar with Dr. Ellen Content next to the Special Webinar tab. Log in to see the updates with your Access Code: BTM9C.  You can also reach out to Carebridge by calling 1-800-437-0911.
NJ Direct Members
Members enrolled in the NJ Direct Health Plans can use the services provided by Magellan Behavioral Health.  Magellan is responsible for the management of your behavioral health benefit.  This benefit includes treatment for both mental health and alcohol/substance abuse provided by an eligible behavioral health provider and includes In-patient, partial hospital, residential, intensive out-patient, out-patient and group treatment.  Eligible providers of behavioral health are Psychiatrists (MD), Licensed Psychologists (PhD), Licensed Clinical Social Workers (LCSW), Licensed Marriage and Family Therapists (LMFT), Licensed Professional Counselors (LPC), and Certified (Psychiatric), Nurse Practitioners working within the scope of their practice.
Your benefit may allow treatment for mental health and alcohol and substance abuse.  However, pre-certification (prior to treatment) is required by Magellan for all admissions.  The pre-certification process will determine if the treatment to be provided is medically appropriate and if it will be provided at the most appropriate level of care to fit your behavioral health needs.  The pre-certification process through Magellan is available 24 hours a day, 7 days a week.
The Magellan crisis and pre-certification number is 1-800-991-5579; for non-crisis situations, call 1-800-626-2212.
---
Grand Rounds Health
NJ SHBP/SEHBP's Expert Medical Opinion Partner
What is Grand Rounds Health? Grand Rounds Health is a remote, confidential expert second opinion partner that connects participants to world-class health experts for guidance for complex needs. This benefit helps improve outcomes and reduce costs from incorrect diagnoses and treatment.  Grand Rounds Health services are available at no out-of-pocket costs.
How do members get started? All employees enrolled for a Medical plan through NJIT are eligible. Eligible plan members can visit www.grandrounds.com/shbp or call 1-855-734-4017 to enroll.  They can access their account on any device (desktop, tablet, or mobile) after they sign up. 
What can members do with Grand Rounds Health? 
Receive an expert second opinion for any condition they may have, which includes Grand Rounds Health gathering all available medical records on behalf of the member.
Find high-quality, in-network providers for local care and even have their appointment scheduled for them.
Speak with a Grand Rounds Health Staff Clinician for any questions they may have about their health, as often and for as long as they want.
---
Livongo
Livongo, a diabetes management program was launched for Actives and Early Retirees.  The goal of the program is to help keep members living with diabetes in the safe zone of blood glucose levels by providing a cellular-enabled glucometer with testing strips and access to coaching and a 24/7 chat feature.  Livongo identifies eligible participants through Medical and Rx claims data sending targeted communications to members for enrollment.  Livongo analyzes data to personalize the program for each member and provide real-time health insights.  Livongo is also implementing the Livongo "Whole Person", which provides a broader set of services including Livongo for Diabetes, Livongo for Hypertension, Livongo for Weight Management, and Livongo for Behavioral Health.  To learn more, click here.