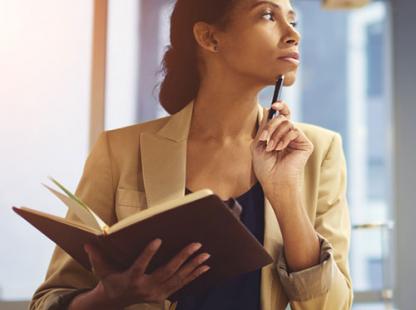 Frequently Asked Questions
For more information on NJIT's procedures and policies, please find the employee handbook here.
For all COVID-19 related questions please visit the pandemic recovery page. 
Updating and Accessing Personal Information
How do I change my address, telephone number, or emergency contact information?
Addresses, personal telephone numbers, and emergency contacts can be updated in Banner self service by following the below instructions:
Log into Highlander Pipeline https://my.njit.edu
From the "Faculty/Services" tab choose "Self Service Banner (SSB)"
Choose "Personal Information" tab
You may view or update the following items:
Addresses and Phones
Personal E-mail Addresses
Emergency Contacts
Marital Status
How can I find out how much sick or vacation time I have accrued?
Leave balances can be viewed by following the below directions.
Log into Highlander Pipeline https://my.njit.edu
From the "Faculty/Services" tab choose "Self Service Banner (SSB)"
Choose "Employee" and then "Leave Balances"
Please note leave balances are updated once per pay period on or around the pay date.

How do I change/update direct deposit for my pay?
Instructions for uploading your direct deposit can be found at our payroll website, here.
How do I update my W4?
Instructions for uploading your withholdings/W4 can be found at our payroll website, here.
How do I view and print tax forms(W-2, 1095-C)? 
All tax forms can be accessed in Banner self service by following the below instructions:
Log into Highlander Pipeline
Select on the "Faculty/Staff Services" tab
Select "Banner Self Service"
Select Click "Employee"
Select"Tax Forms"
Select the tax form needed
Select the tax year and select "Display" (If you have not consented to receive forms electronically, you will be prompted to provide consent.)
Scroll to the bottom of the page and select "Printable form"
How do I view my current job title, salary and a history of my previous jobs?
Log into Highlander Pipeline https://my.njit.edu
From the "Faculty/Services" tab choose "Self Service Banner (SSB)"
Choose the "Employee" tab
Select "Job Summary"
Select a "Title" to see further details.
*Please note job history in SSB only goes back to 7/1/2010.  Reach out to HR@njit.edu to request job history prior to 6/30/2010.
How do I view my current and previous pay information (inclusive of pay stubs, earnings, and deductions)?
Log into Highlander Pipeline https://my.njit.edu
From the "Faculty/Services" tab choose "Self Service Banner (SSB)"
Choose the "Employee" tab
Select "Pay Information" and select one of the following:

Earnings History
Pay Stub
Deductions History
Earnings by Positions
How do I obtain employment verification, income verification, or have the employer section of the Public Service Loan Forgiveness Form completed on my behalf?
Current NJIT employees (excluding student workers):
Visit the Experian verify portal. 
Login with you NJIT UCID if prompted. 
Choose "Generate Letters" for the below options:

Employment Letter - generated on NJIT letterhead with basic employment information.  (Name, Title, and Service Dates)
Income Letter - all of the information on the employment letter with current salary information.
Public Service Loan Forgiveness Document
Commercial Verifiers (i.e. Financial institutions, former employers, government agencies) should submit visit the Experian Employer Services page. 
Former employees should reach out to hr@njit.edu for further assistance.  
Student employees should reach out to finaid@njit.edu.
---
Employee Benefits 
What health plan am I enrolled in?
You can view your medical and dental enrollment by logging in or registering (if not done so already) to BenefitSolver. Registration Instructions. 
Where do I access FMLA forms? How do I apply for FMLA?
FMLA forms and information can be found on our HR website, under Benefits. Please note the form has to be filled out by the employee and medical provider for HR approval. 
 What does tuition remission cover?
Tuition remission covers the cost of tuition and not fees for employees and their dependent children. See the Tuition Remission Policy for detailed information. 
How do I contribute more to retirement?
You can contribute additional funds to retirement by enrolling in either a 403 (b) plan or 457 Deferred Compensation plan.  Both plans are voluntary and allow for employee only contributions. Complete the Salary Reduction Agreement form to contribute more towards a voluntary retirement plan. 
---
Accommodations
Requesting a Reasonable Accommodation
In order to request an accommodation, the employee will need to complete and submit the Accommodation Request Form. In addition, the employee's health care provider will need to submit the Americans with Disabilities Accommodation (ADA) Interactive Questionnaire. The employee should e-mail the completed forms to the Department of Human Resources for review at hraccommodations@njit.edu. The employee also may contact the Department of Human Resources directly if the employee has specific questions regarding the accommodation process.

Interactive Process
​Upon receipt of the applicable accommodation forms, Human Resources will engage in an "interactive process," where NJIT will assess the nature of the disability and the limitations that may affect the employee's ability to perform the essential job duties through discussions and information sharing between Human Resources, the employee, the health care provider and supervisor. The interactive process also will help determine if the requested accommodation(s) is/are reasonable, and that they do not impose any undue hardship. As part of the interactive process, your supervisor may be requested to provide information, such as details regarding the essential functions of the position, or to address feasibility issues.
---
Job Posting & Hiring  
How do I  post a position?
The first step in the process is to initiate a request.  After being fully approved, this requisition eventually becomes the job posting on NJIT's recruitment website (jobs.njit.edu). 
How do I externally advertise a position?
Please reach out to a member of our Talent Acquisition team for guidance on the process and best avenues for advertising your position: careers@njit.edu
What is the process for interviewing?
Please reach out to a member of our Talent Acquisition team for guidance on an appropriate interview format for your position: careers@njit.edu
I want to offer a candidate a position- what is the process?
Please review the process outlined here on how to make an offer and issue an offer letter. It's important to note that you should not make any verbal offers of employment without consulting with HR first. 
I want to hire someone- when can they start?
Please review the recommended start dates (and Orientation dates) for 2023 that coincide with our payroll schedule. If there is a preferred start date that does not coincide with our payroll schedule, there is flexibility with the dates to better meet your business needs, however, it's always preferred to have a new hire attend orientation on their first day. 
When can a new hire claim their UCID and get their email set up?
All new hires should visit the HR office on, or before, their first day of employment to complete the new hire paperwork, which will include visual acceptance of appropriate work authorization.  Once we verify receipt of all required paperwork, the new hire's information will be entered into Banner, within 24-48 hours, which will generate their NJIT ID. The new hire can then Claim their UCID. 
---

Manager Requests
I submitted a Personnel Action Form (PAF). When will it be processed by HR?
Please note the PAF processing schedule at this link. To determine the status of a specific PAF form please email HR@njit.edu
Where can I locate PAF processing deadlines?
PAF Processing deadlines and the payroll schedule can be found at this link.
How do I request a report or list of employees?
Report requests can be sent to HRIS@njit.edu
---
Investigations
What do you investigate? 
Our team investigates any employee policy violations and/or claims of discrimination or discriminatory harassment involving NJIT employees. We also partner with the Dean of Students and Campus Life to investigate complaints that involve both students and employees.
How long does the investigation process take?
Investigations are generally completed within 90 days of receiving the initial complaint and completing the intake interview, however, the length of investigation can be longer depending on the complexity of the issues, number of parties/witnesses involved, etc. Our team will provide complainants and respondents with status updates periodically throughout the investigation.
---
Unions
Where can I find my union contract?
Union Contracts can be found here. https://hr.njit.edu/union-contracts
What is my Starting/ending date and/or union dues or deductions?
Each union contract provides details on union dues/deductions, and we encourage employees to contact their union representative(s) for specific information. In general, employees must sign a union authorization form/card to initiate dues deductions, and to end deductions, employees must contact the union to confirm, and the union will notify HR.
---
Summer Schedule Pilot
What is the Summer Schedule and where can I find more information?
All information on the Summer Schedule Pilot can be found on the Highlander Nexus.