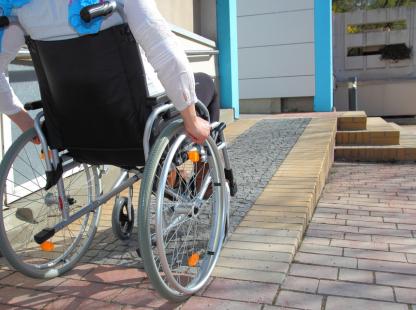 Disability Plans
Disability Plans and Family Leave Insurance information.
Temporary Disability Benefit
Under the New Jersey Temporary Disability law, cash benefits are payable when an individual cannot work because of sickness or injury NOT caused by the job.  An employee must meet certain wage requirements to be eligible for temporary disability benefits.  In order to have a valid claim for disability, a claimant must have had at least 20 calendar weeks in covered New Jersey employment in which he/she earned $145 or more (called the "base weeks"), or have earned $7,300 or more in such employment during the "base year".  The "base year" is 52 weeks immediately before the week in which the disability began.  Only covered wages earned during the base year period can be used in determining a claim.
If you suffer a non-work-related disability, you may file a Temporary Disability Insurance claim within 30 days of the start of the disability.
Benefit / Rate
Benefit provides income replacement of up to 26 weeks
Maximum weekly benefit in 2014 = $595
All accrued sick time must be used first
Birth of a child qualifies as condition of temporary disability for the mother
To file a claim:
Complete Part One of Disability Claim form and have your doctor complete Part Two
Return the form to Human Resources.  HR will complete Part Three and mail the completed form to the State Division of Temporary Disability Insurance.
---
Long Term Disability-ABP
Long Term Disability is available to employees who are enrolled in the Alternate Benefit Program (ABP). The ABP Plans include: TIAA-CREF, ING Financial, MetLife, Equitable, Mass Mutual aka Hartford, VALIC and Prudential.
If you are expected to be disabled for six months or longer, you may be eligible for Long Term Disability.
The benefit is 60% of pre-disability salary
Medical insurance continues by paying required employee premiums
Employee (5%) and employer (8%) contributions are made into the pension plan on behalf of employee
Life insurance continues at the full amount of 3.5 times base salary the disability
This benefit ends at age 70
Effective date of coverage
Automatic after one year of participation in the ABP program; if the required service is transferred from another NJ State pension fund, coverage becomes effective on the date of hire.
Insurance Carrier – Prudential Insurance Company
Cost – Non-contributory benefit
Appeals Process
If your claim for benefits is denied you or your representative may appeal your denied claim in writing to Prudential within 180 days.
---
Reliance Long Term Disability
Full time employees who are not enrolled in the ABP can enroll in the Reliance LTD plan.  The cost is 1.26% of base pay.  Benefits become available 90 days after total disability.  The employee will be paid 66 2/3 rds of their monthly earnings.  The minimum monthly benefit is $100, the maximum benefit is $3,000.
---
Disability Retirement – PERS/PFRS
Disability Retirement is available for PERS members with 10 or more years of pension service or PFRS members with 4 or more years of pension service who become totally and permanently disabled.
---
Family Leave Insurance
Under the Family Leave Insurance provision of the New Jersey Temporary Disability Benefits Law, cash benefits may be payable for up to six (6) weeks to bond with a newborn or newly adopted child or to provide care for a seriously ill family member.
In order to establish a valid family leave claim, you must earn a certain amount of wages. The wage requirement is either:
$145 or more per week during 20 calendar weeks in the base year; or
$7,300 or more during the base year
The "Base Year" period is the 52 weeks immediately before the week in which your family leave began. Only New Jersey covered wages earned during the base year period can be used to establish a valid claim.
The seven consecutive days after the first date of your family leave claim is the "waiting week". No benefits will be issued for the waiting week until benefits for any part of each of the following three weeks have been paid. However, if your family leave immediately follows leave for your own illness under State Plan temporary disability, there is no waiting period for Family Leave Insurance benefits.(Example: new mother bonding immediately after period of disability for pregnancy).
Weekly Benefit Rate
The weekly benefit rate for a State Plan Family Leave Insurance claim is based on your average weekly wage. The average weekly wage is generally based on how much you earn in the eight weeks immediately before your claim begins. For claims beginning January 1, 2014, the weekly benefit rate is two-thirds (2/3) of your average weekly wage, with a maximum of $595.
Important: No one may receive more than six (6) weeks or forty-two (42) days of benefits during the 12-month period, for any reason.
Family Leave Insurance Application
For more information regarding Family Leave Insurance, please contact the Department of Human Resources at (973) 596-3380.